Dr. Althea Angel Powder Aesthetic Modeling Facial Care
Product description
: Activate irritated damage skin cells for antioxidant effect
: Keeps moisture with aging care + trouble care for best skin condition
: Reduce irritation of sensitive skin, cool and sooth skin for silky clean care
: Rich nature extract penetrates deep with nutrition
: Adenosine dermis protein helps for elastic skin care
: Absorbs impurities with excess amount of sebum to sooth trouble skin
: Cool irritated skin for vitality with quick skin tone enhancement
: Angel powder and rose essence golden ration gives aesthetic effect
Major ingredients:
Rose flower extract, adenosine, niacinamide, chamomile extract, green tea extract
How to use:
1.Combine angle powder and rose essence into a bowl.
2. Use spatula to mix in one direction.
3. Use spatula to apply from wide areas of the face. To avoid from drying, apply within 2~3 minutes.
4. Remove from bottom, after 15~20 minutes.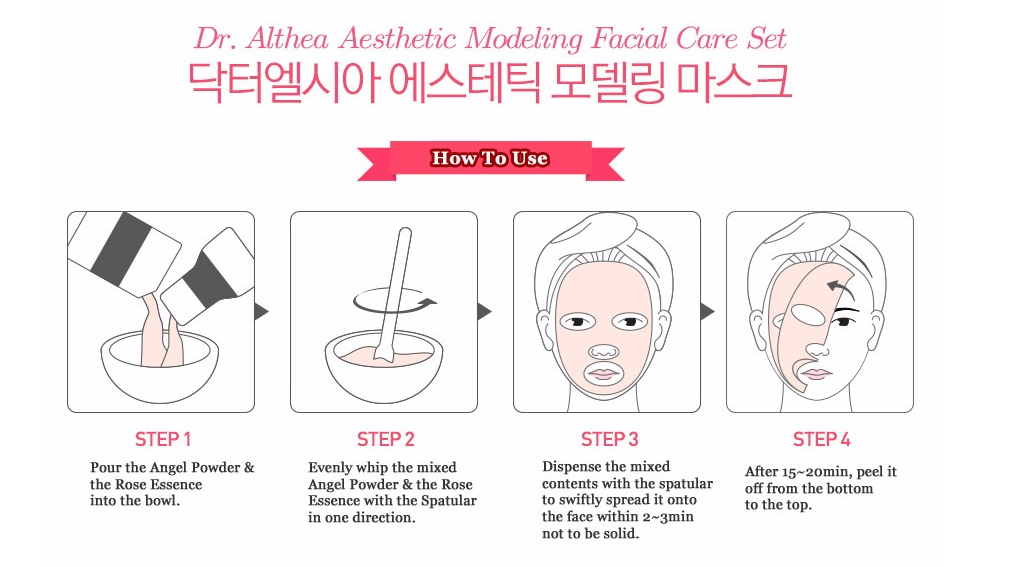 Volume:
step1: 25gx4,
step2: 50gx4
Origin: Korea